Introduction of Dr. Koide
Dr. Koide
A medical doctor/researcher, who had been doing basic research in academia, and contributed new drug development at several pharmaceutical companies, was shocked by the effect of YNSA for his own frozen shoulder. Then he decided to work on this very unique acupuncture.
1988
graduated from Nagasaki University School of Medicine (M.D.)
1992
completed Graduate School at Kobe University (Ph.D. in biochemistry)
1992−1997
Researcher at McMaster University, University of British Columbia
1997−2013
Clinical Development Physician, Head of Clinical Pharmacology, Head of R&D at several pharmaceutical companies including Merck and Pfizer
2013−present
Training and research for complementary medicine including YNSA, researcher at University of Tokyo
2016
Private practitioner specialized in YNSA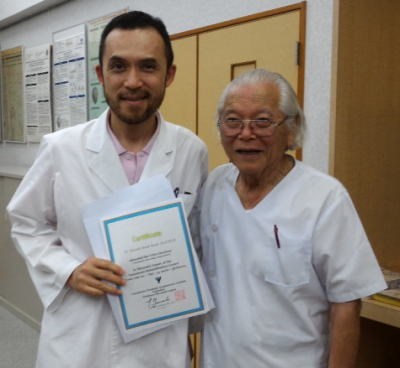 Dr.Toshikatsu Yamamoto (right) and Dr.Koide
Western medicine was developed by identifying the mechanism of disease, and various medications were identified with proven mechanism of action. It can provide cure to many diseases. On the other hand, all drugs are poison. Some has serious side effects, which could influence on QOL of patients. Also it is pointed out that in many cases too many medications are prescribed to each patient, which are often more than necessary.
A medical doctor who has been doing basic research on mechanism of disease, and developed new drugs, has decided to practice YNSA to treat patients in order to introduce the beauty of YNSA to many people as a new treatment option.
Frozen shoulder and neck stiffness are disorder which has limited treatment option at orthopedics clinic. People with such disorder could have limitation in daily life. YNSA will help you. As this is scalp acupuncture, you can work or do household duties while on treatment.
Email form
>> Contact
>> Appointment