What is YNSA?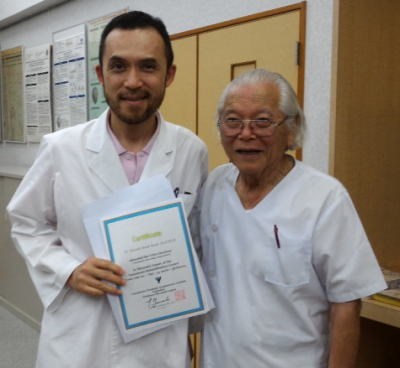 Dr.Toshikatsu Yamamoto (right) and Dr.Koide
YNSA, Yamamoto New Scalp Acupuncture, was established by Dr. Toshikatsu Yamamoto, at Yamamoto Hospital at Nichinan city, Miyazaki Prefecture at about 1970, and has been used for daily treatment (1). This has been used mainly for all kinds of pain (neck pain, lumbago, shoulder pain, headache), neuralgia, undefined clinical complaint (vertigo, tinnitus, insomnia, menopausal symptoms), hemiparesis, paralysis, speech disorder due to brain hemorrhage or brain infarction, intractable disease, Parkinson's disease. It is more known in oversea countries, such as Germany or US rather than in Japan. Unlike common acupuncture therapy, the effect is immediate. In Japan, due to the prevalence of traditional acupuncture, YNSA is not well known yet. In the last couple of years, the number of acupuncturists and physicians who use YNSA has been gradually increasing in Japan. Dr. Yamamoto has been very active in teaching, and seminar has been done in Japan and overseas, such as at Harvard University.
Medical Association
In 2013, YNSA Association was established in order to promote and educate the use of YNSA in Japan.

1) http://www.aisinkai.com/original5.html